Annual Report 2022
Our first year reimagining refugee resettlement as a whole-country effort.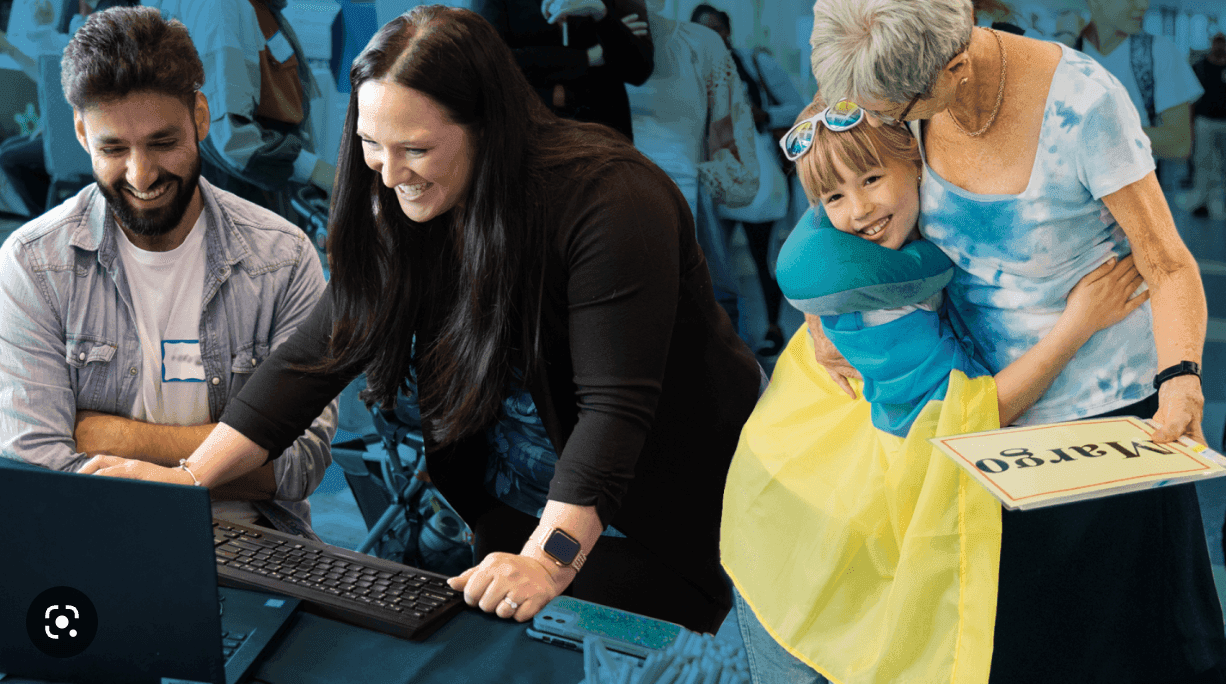 Celebrating a nation of Welcomers
This past year has proven that when we open up the resettlement system and invite the participation of every part of America—from corporations to civic organizations to everyday people—we tap into the best of America, and a reservoir of welcome that far expands what government systems can do on their own.
As increasing conflict, climate change, violence, and oppression drive ever more people to flee their homes, we envision an America that gives people in need of refuge access to safety, security, and the chance to rebuild their lives and achieve their human potential.
Welcoming in numbers, at a glance
441 organizations
Coalition of Welcomers
441 organizations and 221 leaders make up the Welcome Coalition and Council.
$20M+ raised
Supporting Frontline Organizations
The Welcome Fund, in partnership with GoFundMe.org, has raised more than $20M, supporting resettlement agencies and 180 frontline organizations, nearly 70% of which are refugee, diaspora, veteran, or faith led.
$179M
Private Sector Contributions
Welcome.US CEO Council members contributed $179,074,000 in goods, services, and funds to resettlement efforts in the U.S. over the past year.
130,000+ American sponsors
Powering Americans' Desire to Help
More than 58,000 Afghans and Ukrainians welcomed by American sponsors; over 130,000 Americans have signed up to sponsor.
68,000 jobs posted
Hiring Newcomers
by 224 companies on the Welcome.US Employment Exchange; plus, nationwide hiring fairs for newcomers.
$18.8M
In-Kind Donations
329 organizations are on the Welcome Exchange, and $18.8M in-kind donations have been made to resettlement organizations.
How it started
Welcome.US was created in response to an extraordinary challenge: resettling close to 100,000 Afghan allies fleeing Taliban-controlled Afghanistan with a government system that had welcomed just over 11,000 refugees the year before. A mere six months later, Russia's invasion of Ukraine drove millions of Ukrainians to flee their homes. We needed to build a system that could not only meet the specific challenges brought on by these crises, but one with durable capacity and the resilience to meet the next moment of crisis that we know will inevitably come. We needed a whole-of-society response; a truly American effort.
Welcome.US is the story of how the American people rose to meet an unprecedented challenge: this is what we've built together in our first year.
Innovating solutions with the private sector
As the private sector partner of the U.S. government, Welcome.US created diverse points of entry for corporate engagement. Our CEO Council brings together nearly 40 of the country's most iconic companies to innovate new solutions to meet the tangible needs of newcomers at scale—modernizing the resettlement system to grow capacity. These efforts have yielded millions of dollars worth of donated goods and services, but are also vastly expanding systems for newcomer employment, providing household supplies, accessing legal services, and sponsorship.
Private sector partners also are helping to grow participation in welcoming by sharing calls to action with employees and consumers. Employees of participating corporations also are invited to become Welcomers as volunteers at legal clinics, hiring fairs, or community-based organizations focused on local resettlement; or by helping to raise awareness about the work of Welcome.US and sponsorship. The combined workforce of CEO Council member organizations constitutes millions of employees who have the potential of being Welcomers in their local communities: they are a crucial component of the welcome movement.
Diverse points of entry for corporate engagement
Stories of Welcome: Innovating for Impact
With visionary leadership from the CEOs of Google and Accenture, the Welcome.US CEO Council has created diverse points of entry for corporate engagement in the work of resettlement. Leveraging their unique areas of expertise, and activating both their employees and consumers as Welcomers, the CEO Council is a cornerstone of the growing welcome movement.
Bringing communities into the resettlement system
This year, Welcome.US partnered with the U.S. government to help relieve pressure on the traditional resettlement system—which consists of just nine heroic refugee resettlement agencies—by allowing everyday people to assume responsibility for a newly-arrived family in their community. Americans seized that opportunity: over 800 Afghans were directly sponsored by everyday Americans in groups of five or more through the Sponsor Circles program and by iconic service organizations like Samaritan's Purse, Islamic Relief USA, Lions Club, and others who mobilized their memberships to support newcomers.
The success of those efforts later served as the blueprint for the Uniting for Ukraine program, which allows Americans to directly sponsor Ukrainians displaced by the Russian invasion and makes it possible for them to find safety and refuge in the United States. Now, six months since the launch of that program Americans signed up to sponsor more refugees than the U.S. government has admitted in the last five fiscal years combined.
Anyone can be a sponsor, including you
Welcome Connect
Built with Goldman Sachs, ServiceNow and Infosys, a first-of-its-kind tech platform that connects potential sponsors with newcomers.
Join Welcome Connect
Sponsorship Training
New training tools provide greater access to information for those welcoming newcomers in the United States.
Take the training
Mobilizing for Uniting for Ukraine
Central hub of resources and information on sponsorship under Uniting for Ukraine.
Ukraine page
Stories of Welcome: Connections Change Lives
Welcome.US and its partners have played essential roles in developing the innovations and architecture to support Americans to sponsor Afghan and Ukrainian newcomers. By inviting everyday people to participate, we dramatically expanded our capacity for welcome and helped provide the sense of belonging so critical to the success of our new neighbors. With the leadership of Goldman Sachs, we have rapidly accelerated the opportunity for Americans to serve as sponsors.
The Welcome Movement
Over the course of this year, we've not only added much-needed capacity to our existing systems, we've started building a more engaged, more politically and geographically diverse, and more durable movement of welcome in America. It's a movement that transcends real or perceived political, religious, geographic, ethnic, or other divides. Our call to action has resonated with Americans everywhere, in every community, and of every background because it encompasses what Americans are already doing every day: Being good neighbors. Helping those in need. Serving our communities.
Civic organizations as diverse as Lions Clubs International, Samaritan's Purse, Islamic Relief USA, Returned Peace Corps Volunteers, veteran-led Team Rubicon, refugee-led Viets for Afghans, and hundreds of community organizations have all become new players in the work of welcome.
Communities of Welcomers
Together, we have built the largest, most diverse coalition of people and organizations engaged in resettlement work in American history.
Veteran Community
Veterans were some of the first to step up as Welcomers for our Afghan allies, organizing to quickly respond to initial resettlement needs and providing ongoing support to welcome newcomers from Afghanistan as well as Ukraine. Their unique skills and commitment to these communities have created deep relationships and effective organizations nationwide.
Watch video
Faith Communities
Congregations and members of faith groups have long offered a helping hand to those in need, and when the need for welcome was greatest following the fall of Kabul and the Russian invasion of Ukraine, new faith networks rallied their memberships to help. From national faith organizations to individual congregations and families, a diverse and growing community is providing refuge to newcomers in crisis.
Watch video
Diaspora Organizations
Diaspora organizations have been a central force in providing welcome over the past year. In fact, 67% of Welcome Fund grantees are Afghan American, Muslim, veteran, or refugee-led organizations. And 27 Ukrainian American organizations have partnered with Welcome.US to raise awareness on Uniting for Ukraine and sponsorship.
Nonprofits and Community Organizations
Together, this inspiring coalition of national and local nonprofits and community organizations has served tens of thousands of people in hundreds of communities across the country. Whether by resettling newcomers, meeting basic needs, advocating for human rights, lifting up diaspora communities, or serving veterans, all of these groups are stepping up and leading as Welcomers at this critical moment.
About our partners
Corporate America
As the private sector partner of the U.S. government, Welcome.US created diverse points of entry for corporate engagement. Businesses and their leaders, including those on the Welcome.US CEO Council, bring a range of resources—expertise, talent, technology, and financial investments—to the table. Welcome.US and its corporate partners have brought new innovations to meet the needs of newcomers at scale and to engage employees and consumers in the work of welcoming.
CEO Council
Local and State Governments
States and cities across the country have opened their communities to Afghan and Ukrainian newcomers. Red States and Blue States are places of welcome—as committed state and local leaders across the political spectrum put forth policies and dedicate resources to welcome newcomers—knowing how newcomers revitalize their communities and economies.
States and cities
What act of welcome will you do today?
#BeAWelcomer—Hundreds of organizations and thousands of individuals have become Welcomers in their communities.
Funding frontline organizations
Anyone can donate to the Welcome Fund, which has provided grants to 180 organizations supporting newcomers. Donate now
The Welcome Fund
Legal Support
The Welcome Legal Alliance mobilizes our nation's lawyers and other volunteers to provide pro bono legal support to newcomers.
Learn more
Stories of Welcome: A Nation of Welcomers
BE A WELCOMER
Discover how rewarding it can be to welcome newcomers into your community.