Sponsor Ukrainians through Uniting for Ukraine
Become a sponsor and help Ukrainians fleeing war to find safety in the United States.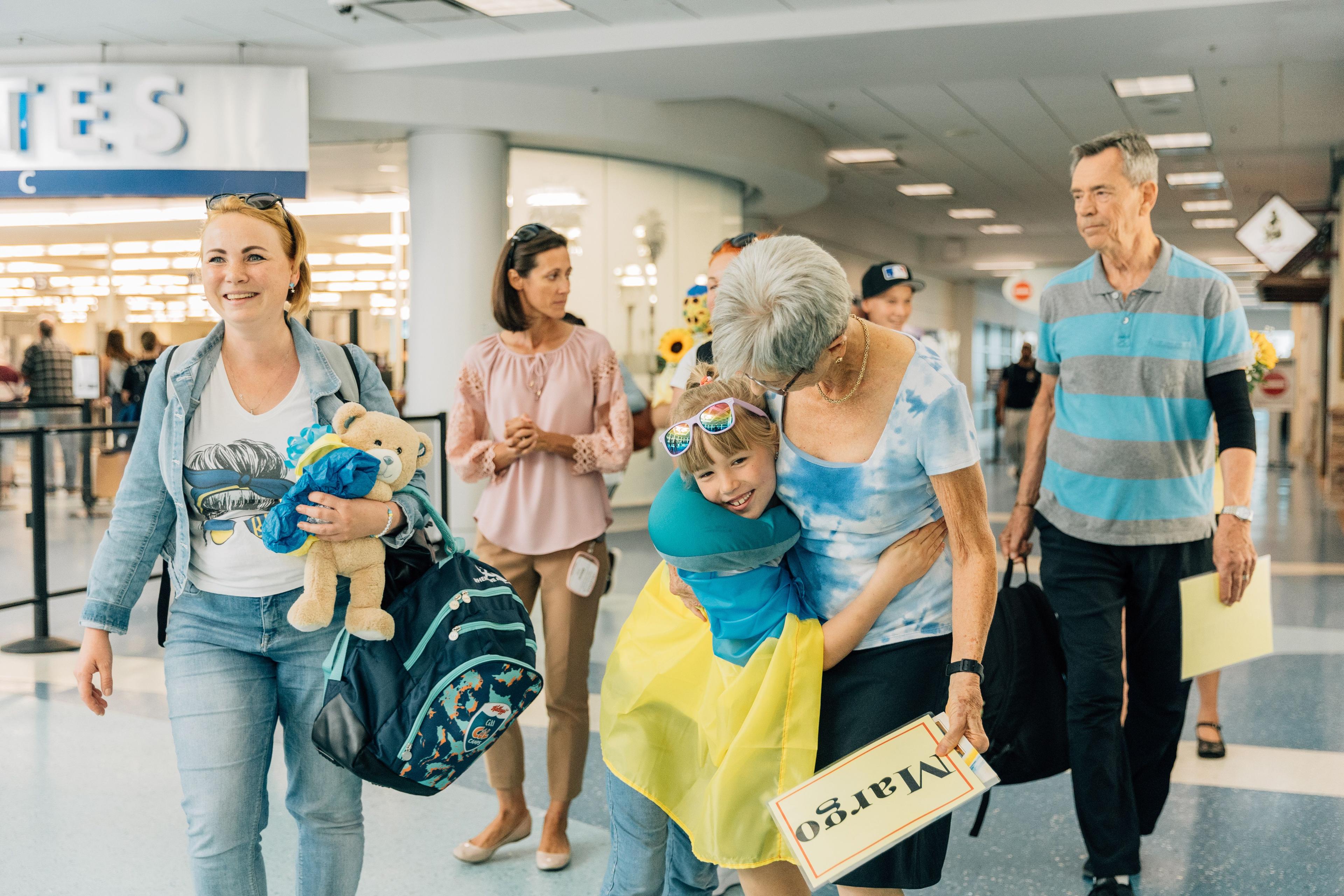 Help Ukrainians find refuge
The war in Ukraine sparked the largest humanitarian crisis in Europe since World War II, forcing more than 8 million people to flee their homeland. In April 2022, the U.S. government created the Uniting for Ukraine program (U4U) allowing people in the U.S. to provide Ukrainians seeking to escape conflict a pathway to safety in America.
Hundreds of thousands of sponsorship applications have been submitted—providing a bridge to safety for tens of thousands of Ukrainian families. The response has been remarkable. But as the war continues in Ukraine, more sponsors are urgently needed.
Why is U4U needed?

Since February 2022, the world has witnessed the devastation caused by the Russian invasion of Ukraine. The Ukrainian people are bravely fighting to defend their country, but Russia continues to attack vital infrastructure like power plants and train stations, and bombs have dropped on schools and hospitals.

More than 8 million Ukrainians, many of them women, children, and families, have fled their homeland in search of safety and security. In response to this immediate need, the U.S. government launched the U4U humanitarian sponsorship program to provide a rapid process for Ukrainians in need of urgent refuge in the United States. U4U depends on everyday Americans to provide a bridge to safety for Ukrainians through sponsorship—and travel authorization to the U.S. can be received in weeks.

See our FAQs for people sponsoring under U4U for more information.
Who can be sponsored under U4U?

Potential beneficiaries under Uniting for Ukraine include individuals and their immediate family members who were citizens of Ukraine on February 11, 2022, and fled Ukraine due to the war.

The government has not set a ceiling for the maximum number of Ukrainians who can arrive through this program. The Administration has not announced any plans to close the program, especially as the need for refuge for Ukrainians continues.

See our FAQs for people sponsoring under U4U more information.
Who can sponsor under U4U?

Sponsors under this program must hold lawful residency in the United States.

U.S. citizens and nationals;
Lawful permanent residents (green card holders), lawful temporary residents (such as TPS holders), and conditional permanent residents;
DACA recipients and other nonimmigrants in lawful status;
Asylees, refugees, and humanitarian parolees;
Individuals can sponsor alongside an organization, a group of people, a faith community, or an employer.

See our FAQs for people sponsoring under U4U for more information.
How does U4U work?

An eligible supporter files an I-134A application with the U.S. government to sponsor a Ukrainian to come to the U.S.
The sponsor identifies a specific beneficiary on the application.
The application is reviewed and if sufficient, approved.
Those beneficiaries accepted will be granted humanitarian parole in the U.S. for two years and can apply for work authorization.
There are eligibility requirements for beneficiaries such as passports.
Next steps toward sponsorship under U4U
Find someone to sponsor
If you need to be connected to Ukrainians seeking refuge in the U.S., create a profile on Welcome Connect.
Get started on Welcome Connect
Resources and checklists
Discover more resources and tips to help sponsors and newcomers
BE A WELCOMER
Discover how rewarding it can be to welcome newcomers into your community.