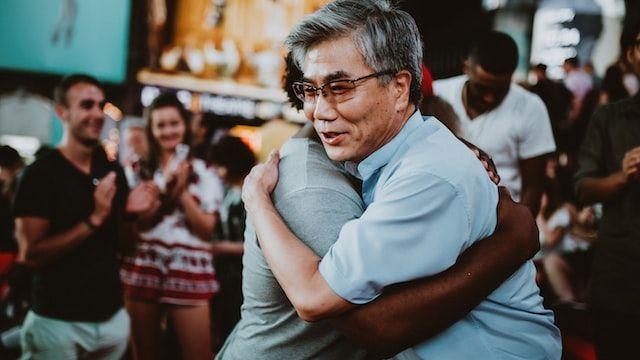 Be a bridge to safety
Under new government programs, American sponsors can provide a lifeline to individuals and families seeking refuge in the U.S. from eligible countries such as Ukraine.
The Welcome Connect platform allows you to connect directly with newcomers so you can mutually decide if you want to pursue sponsorship together.
Already registered? Log into Welcome Connect.
Are you seeking a sponsor? Find out when you can sign up on Welcome Connect.
Connecting as a sponsor is easy
Take a short sponsorship training session
Complete your profile
Connect with people seeking sponsors for conversations (either party can choose to end the conversation at any time)
If you find a good match, you can mutually decide to pursue the sponsorship application together
Register as a sponsor on Welcome Connect
Register today to get started and connect with people who are seeking sponsors.
More Information About Sponsorship
How do I prepare to become a humanitarian sponsor?

Take our interactive sponsorship training for more information about what's involved and how to get started and review the I-134A application guide to understand what is required by the government.

Consider working as a group. Sponsorship can be most successful when responsibilities are shared. Banding together with family, friends, co-workers, or members of faith, service, or community groups allows you to share in the joys and responsibilities of sponsorship. Your teamwork will result in a better experience for you, your community, and the newcomers you are welcoming. You can also sponsor alongside an organization, such as a church or a nonprofit.

Registering on Welcome Connect will also give you access to our Be A Welcomer Facebook Group, where you can meet other sponsors, share experiences, and celebrate your journey together!

See a sponsor group structure.

Consider fundraising to help support the newcomers you are welcoming. Not all humanitarian sponsor groups start out with the financial resources needed to start to sponsor newcomers—but often, members of your community are eager to help.

Understand the resources you may need to assist a newcomer. In addition to helping the newcomer financially you will need to help them find health care, perhaps schooling, and employment.

This checklist can serve as a guide.

Go to our resources section to find more guides and toolkits to support you at every stage of your sponsor journey.
What are a sponsor's financial obligations under U4U or P4CHNV?

Humanitarian sponsorship includes some basic financial responsibilities. Most sponsors support newcomers as they find their footing in the U.S., secure jobs, and become self-sufficient. Sponsors and potential beneficiaries should be clear about what financial resources may be needed.

If you are applying to sponsor under the humanitarian sponsorship program (for example, through Uniting for Ukraine) you must submit financial information as part of the 1-134A. By submitting the form, you attest that you can financially support the essential needs of the newcomers you sponsor for up to two years, should it become necessary to do so. While the declaration is not meant to be legally binding, it's important to recognize that beneficiaries will likely need your help upon arrival, including financially, as they work to rebuild their lives.

There's no set amount required for humanitarian sponsorship. But you and your group should plan to raise at least $3,000 for each person sponsored. This money will help the family get settled in the first days and weeks after their arrival in the U.S. before they secure a job.

Not all humanitarian sponsors start out with the financial resources needed to sponsor newcomers—but often, members of your community are eager to help. See our Fundraising Tips and Tools or consider sponsoring alongside an organization who can provide financial resources if required.
What happens after I apply to be a sponsor under P4CHNV or U4U?

The U.S. government is solely responsible for approving sponsor applications. The process includes vital steps to ensure the safety and protection of newcomer beneficiaries and sponsor applicants, including background checks and review of your ability to provide initial financial support. Some applications may move more quickly than others, depending on application-specific information.

Sponsors can track the application's status online using their USCIS account. We recommend that you check your online account daily for messages, as well as monitor your email for information from USCIS. (Note: be sure to check spam and junk folders for important messages from USCIS). Beneficiaries will also receive messages from USCIS about steps they may need to take, such as uploading attestations of vaccination statuses.

USCIS might reach out with a request to appear in person for an interview or biometric checks at a nearby USCIS application center. USCIS application centers are commonly located in larger cities and while this may be challenging for some sponsors, it helps protect beneficiaries from exploitation and harmful risks, such as labor or human trafficking.

While your application is processing, we encourage you to connect with national and local organizations who are dedicating resources and expertise to help you in your journey.

See these guides to connect with local and state services:

Guidance to Connecting with Local and State Services: Nicaraguans and Venezuelans

Guidance for Connecting to Local and State Services: Cubans, Haitians, and Ukrainians

We also encourage you to learn about the benefits that may be available to individuals granted humanitarian parole, such as health insurance plans through state or federal exchanges, particular to your state and to review the obligations sponsors have on the USCIS website.
See an in-depth Introduction to Sponsorship for more on what's involved and how it works.
BE A WELCOMER
Discover how rewarding it can be to welcome newcomers into your community.