What is Humanitarian Sponsorship?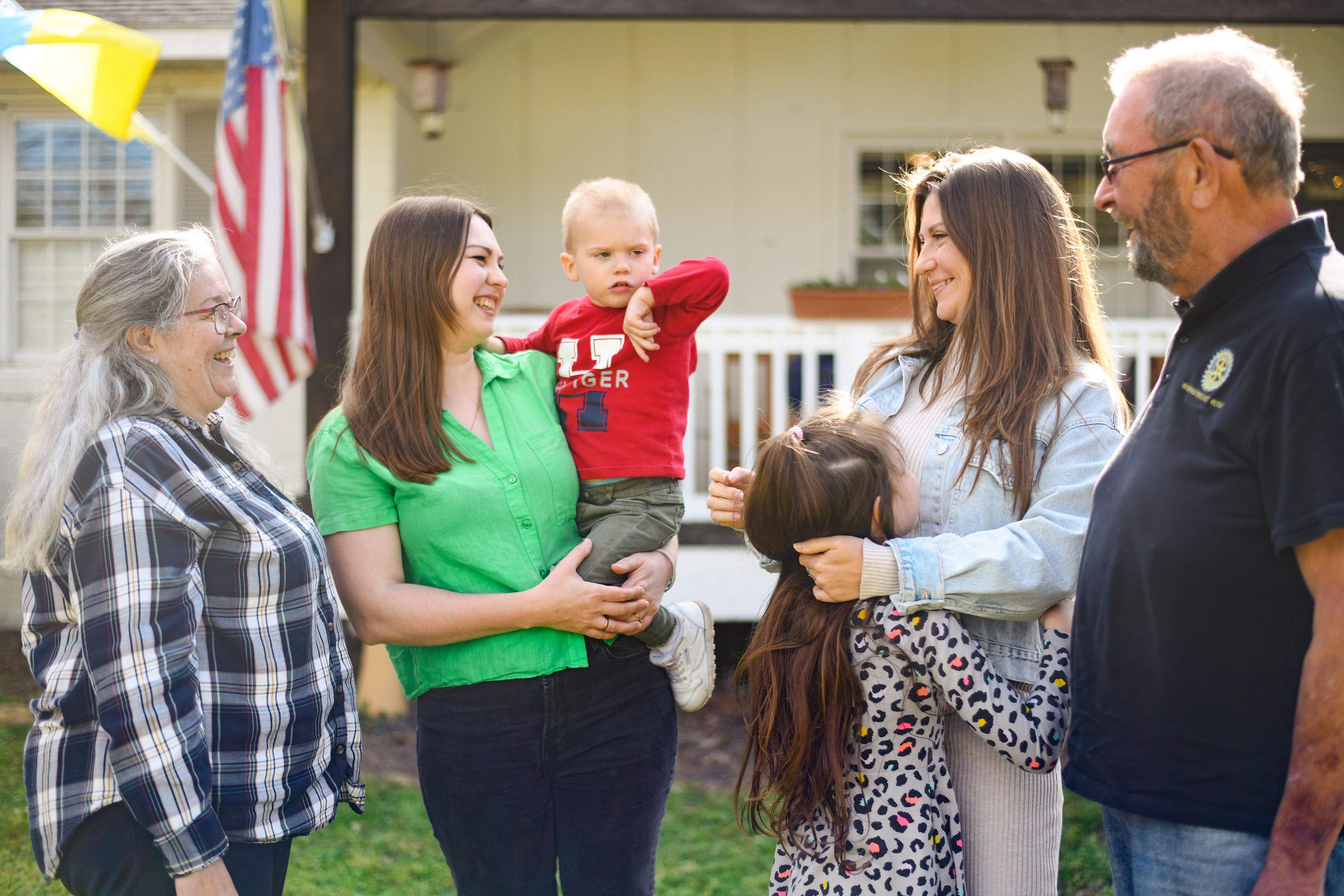 Humanitarian sponsorship empowers Americans to provide a bridge to safety for people in crisis in Cuba, Haiti, Nicaragua, Ukraine, and Venezuela.
Humanitarian sponsorship enables individual Americans to quickly sponsor newcomers from designated countries and bring them to safety in the United States.
In response to a series of escalating crises, the U.S. government created two nimble humanitarian sponsorship programs in 2022: Uniting for Ukraine (U4U) and Process for Venezuelans. The Process for Venezuelans expanded to include Cubans, Haitians, and Nicaraguans (P4CHNV) in early 2023.
The U.S. Citizenship and Immigration Services (USCIS) in the Department of Homeland Security (DHS) oversees both programs.
Who does humanitarian sponsorship help?

Humanitarian sponsorship responds to the immediate needs of people caught in urgent crises due to war, violence, or political and economic instability – including Ukrainians (through U4U) and Cubans, Haitians, Nicaraguans, and Venezuelans (through P4CHNV).

Sponsorship through these programs provides a rapid and streamlined pathway to safety, enabling approved families to arrive in the United States in a matter of weeks.

Families sponsored under these programs receive humanitarian parole for two years and can apply for work authorization.
How does humanitarian sponsorship work?

Humanitarian sponsors must name someone who they want to sponsor when filing an application. (If you don't already know someone from one of the designated countries, you can sign up on the Welcome Connect platform to begin a conversation with people seeking a sponsor.)

Sponsors can welcome newcomers on their own, as a group, or alongside a community organization. Sponsors work to:

Submit an application to USCIS to conduct security and background checks and verify the ability of sponsors to provide initial financial support for newcomers
Prepare themselves to be successful sponsors with training, learning best practices, and finding local resources to help newcomers rebuild their lives
Commit to supporting beneficiaries to become self-sufficient within three months, and as needed for at least 2 years, including financial and social support

Applications through this pathway may be approved quickly, in several weeks. Once an application is approved sponsors will:

Arrange flights and potentially assist with the cost of air travel for beneficiaries
Secure initial housing
Connect the newcomer to local services and resources
Help newcomer adults apply for work authorization and a job to help their financial sustainability

Many services and resources are available to help sponsors and newcomers navigate the welcome process. Humanitarian sponsors can work with a newcomer to determine what level of support is needed – ranging from light-touch for individuals joining family in the U.S. to comprehensive support from local organizations that serve newcomers. On Welcome Connect, humanitarian sponsors who have the capacity to support newcomer families of three or more are eligible to apply to receive additional support, including access to free flights and matching grants to supplement their financial commitment to sponsorship.

For more detailed information, review:
Is humanitarian sponsorship a good choice for me?

Humanitarian sponsorship is a great sponsorship option for you if:

You either know or want to support someone from one of the designated countries.
You'd be ready to welcome a new arrival in a matter of weeks.
You thrive in environments that offer autonomy and flexibility.
You are willing and able to seek out support services, as you need them.
Next steps toward sponsorship
Choose who you want to sponsor under the two available humanitarian sponsorship programs.
Sponsor Ukrainians
Sponsor people seeking refuge from the war in Ukraine under Uniting for Ukraine (U4U)
Learn more
Sponsor Cubans, Haitians, Nicaraguans, Venezuelans
Americans can now sponsor people from these countries through the Process for Cubans, Haitians, Nicaraguans, and Venezuelans (P4CHNV)
Learn more
Related Webinars and Stories
BE A WELCOMER
Discover how rewarding it can be to welcome newcomers into your community.