Sponsor refugees from Around the World
The Welcome Corps is a new service opportunity for Americans to sponsor refugees from around the world and help them thrive as they rebuild their lives in the United States. Like the Peace Corps, you can change a life, including your own.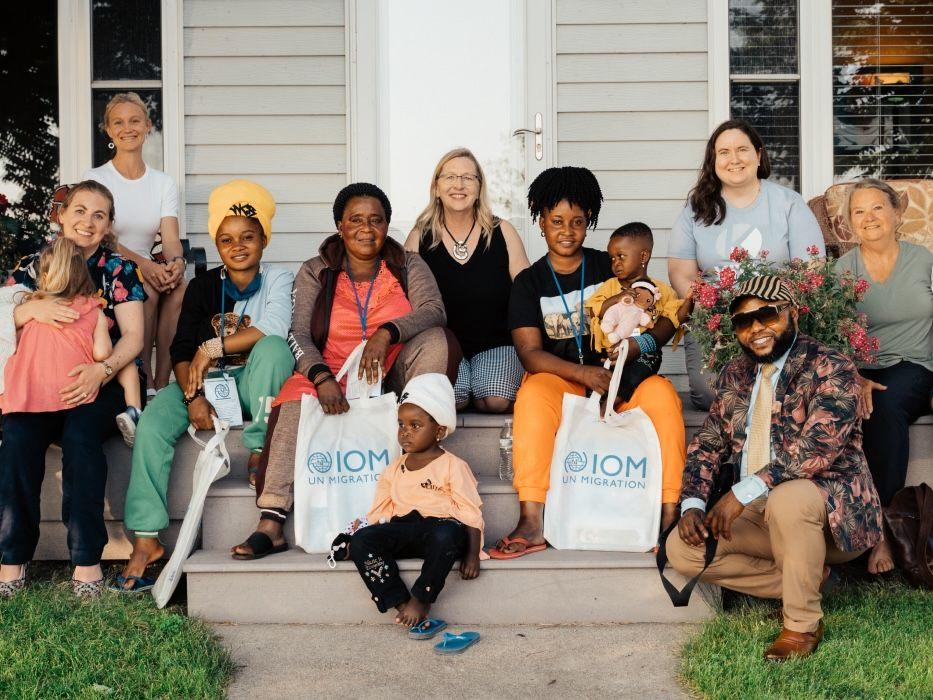 Help refugees find safety and community
There are over 27 million refugees worldwide—a staggering number that continues to grow each year due to long-term conflicts in countries like the Democratic Republic of the Congo, Syria, and Myanmar, and emergencies like those in Afghanistan and Sudan.
Refugees have been forced to flee their country to find safety, and often live in limbo in refugee camps, unable to rebuild their lives. Less than 3 percent of refugees are able to return home. As the boldest innovation in refugee resettlement in four decades, the Welcome Corps makes it possible for everyday Americans to privately sponsor refugees to the U.S. from around the world, giving them the chance to achieve their human potential.
Private sponsorship through the Welcome Corps program builds on America's long tradition of providing safety and protection to people seeking refuge—and gives everyday Americans the opportunity to be the bridge to safety.
Why is sponsorship of refugees needed?

Sponsorship offers an incredible opportunity to change a life, including your own, and strengthen our communities. Fewer than 1% of refugees ever have the opportunity to be resettled in a new country where they can rebuild their lives and make their contributions to a new community. Many have waited years for the opportunity. You can make it possible for many more refugees to find safety, stability, and a new life as new Americans.

By tapping into the extraordinary capacity and compassion of our American communities through sponsorship, we can welcome more refugees and ensure their success. Sponsors serve as a guide, friend, and neighbor—providing a new sense of community when refugees have had to leave friends and family behind.

The warm embrace of our American communities is what refugee newcomers need most, and you'll also be guided every step of the way to help them find housing, enroll in English classes, find jobs, and get kids started in new schools. Along the way, you'll find your own life and community transformed by bringing the best of who we are as Americans to new generations.
Which refugees can be sponsored?

Refugees are individuals outside of the United States who have been forced to flee their homeland due to persecution or a fear of persecution based on race, religion, nationality, membership in a particular social group, or political opinion. Refugees resettled to the U.S. are referred through the U.S. Refugee Admissions Program (USRAP) and must:

Meet the definition of a "refugee" as defined by U.S. law
Be otherwise admissible under U.S. law
Not be firmly resettled in any foreign country

Each year, the U.S. government determines how many refugees it will resettle. Refugees may arrive from:

African countries such as the Democratic Republic of the Congo and Somalia
Counties in East Asia, Europe, and Central Asia such as Ukraine and Afghanistan
Latin America/Caribbean countries such as Venezuela and El Salvador
Counties in the Near East/South Asia such as Myanmar (Burma) and Sri Lanka
How can I become a sponsor for refugees?

Through the newly created Welcome Corps program, Americans can form a Private Sponsor Group (PSG)—a group of five eligible individuals—to welcome and assist refugees as they rebuild their lives in the United States. Welcome Corps sponsor groups work together to:

Raise $2,375 per refugee sponsor (in-kind or monetary) to support the refugee newcomer
Submit a detailed Welcome Plan
Complete required training
Commit to supporting a newcomer financially for at least 3 months and continue with other social supports for 12 months

Learn more on the Welcome Corps site.
Next steps toward sponsorship
Join the Welcome Corps
Visit the Welcome Corps website to learn more and get started with your application to sponsor a refugee.
Go to the Welcome Corps site
Learn about Welcome Corps
Learn about what Welcome Corps involves and decide if it's the right sponsorship choice for you.
Learn more
Related videos and stories
BE A WELCOMER
Discover how rewarding it can be to welcome newcomers into your community.