Sponsor Families through P4CHNV
Become a sponsor and help families fleeing political oppression, poverty, and violence in Cuba, Haiti, Nicaragua, and Venezuela to rebuild their lives in the United States.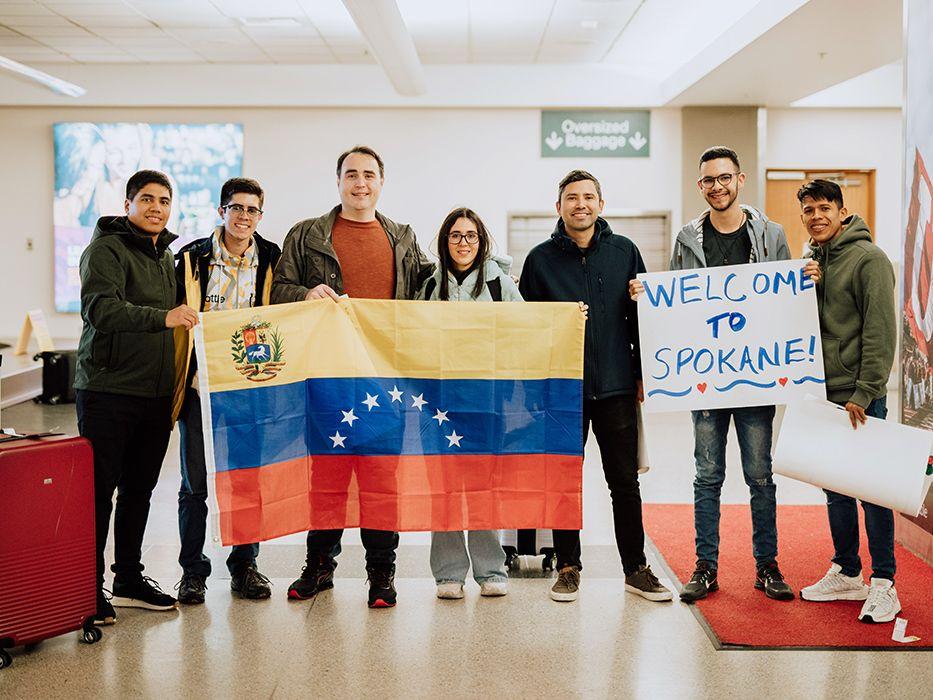 Provide a pathway to safety
The government recently expanded the humanitarian sponsorship programs to enable Americans to bring Cubans, Haitians, Nicaraguans, and Venezuelans to safety in the U.S. (in addition to Ukrainians).
The Process for Cubans, Haitians, Nicaraguans, and Venezuelans (P4CHNV) is the most direct and efficient pathway currently available for citizens of these countries to find refuge in the U.S. with the support of an American sponsor.
News alert: Update to USCIS program (May 15, 2023)
U.S. Citizenship and Immigration Services (USCIS) currently approves up to 30,000 I-134A applications per month under P4CHNV. Daily life in these countries continues to be unsettled by the shortage of basic necessities, security threats, and economic hardship, and many people are seeking the opportunity to build a new life in the United States. This means that the number of applications currently exceeds the monthly cap.
You may experience a delay of several weeks or even a few months between the time you submit your official sponsorship application (I-134A) and its approval. To help remedy these delays, USCIS will process half of the applications it receives based on a monthly lottery system. If your application is chosen for the lottery, you may see approval on a quicker timeline.
A few reminders as you navigate the application process:
Complete one I-134A application for each beneficiary if you are applying for a family or group of individuals; list all beneficiaries on each application so USCIS can approve each beneficiary simultaneously.
Maintain flexibility in your welcoming plans. Once your I-134A application is approved, your beneficiary will have 90 days to travel to the U.S., during which you can focus on travel arrangements or securing initial housing.
Why is P4CHNV needed?

Crises in these four countries over the last decade have forced many individuals to flee their homes. People seeking safety may be doing so for unique reasons, but the main challenges forcing people to flee these countries include:

Rampant violence, political oppression, and upheaval
Inability of governments to enforce the rule of law and rising violence by criminal organizations
Degraded political and social infrastructure that have created public health crises and security threats
Political oppression, including imprisonment of those fighting for human rights, political inclusion, and democratic governance
Collapsed economies that make it hard for families to afford basics like food and medicine
Climate change and its impact on peoples' livelihoods

Sponsorship is the safest path forward for these individuals, and it provides a vital lifeline to people who have no choice but to leave their homelands to find safety and security for their families.
Who can be sponsored under P4CHNV?

People who qualify for sponsorship from these countries include:

Journalists and human rights defenders;
Students, professionals, and laborers;
Families with young children and older adults;
Political dissidents and economically devastated entrepreneurs;
Single parent households and young adults without immediate family;
People, fleeing instability, gang violence, persecution, and economic distress

The eligibility requirements include citizenship in one of the four countries and a eligible passport, among others.

Citizens and those lawfully present in the U.S., including those on temporary statuses, can sponsor someone they know—for example a friend or loved one. If you don't know someone to sponsor, you can also connect with people from these countries who are seeking safety via our Welcome Connect platform.

See our FAQs for Sponsors Under P4CHNV to learn more.
Who can sponsor under P4CHNV?

Sponsors must hold lawful presence in the United States and can be:

U.S. citizens and nationals;
Lawful permanent residents (green card holders), lawful temporary residents (such as TPS holders), and conditional permanent residents;
DACA recipients and other nonimmigrants in lawful status;
Asylees, refugees, and humanitarian parolees;
Individuals can sponsor alone or choose to do it with an organization, a group of people, a faith community, or an employer.

See our FAQs for Sponsors Under P4CHNV to learn more.
How does P4CHNV work?

An eligible supporter files an I-134A application with the U.S. government to sponsor a Cuban, Haitian, Nicaraguan, or Venezuelan to come to the U.S.
The sponsor identifies a specific beneficiary on the application.
The application is reviewed and, if sufficient, approved.
Those accepted will be granted humanitarian parole in the U.S. for two years and can apply for work authorization.
There are eligibility requirements for beneficiaries such as passports.

See our Guide to Navigating the Humanitarian Parole Application.
Next steps toward sponsorship under P4CHNV
Find someone to sponsor
If you need to be connected to someone from these countries seeking refuge in the U.S., create a profile on Welcome Connect.
Register on Welcome Connect
Resources and checklists
Discover more resources and tips to help sponsors and newcomers
BE A WELCOMER
Discover how rewarding it can be to welcome newcomers into your community.